Hello, and welcome to my first ever blog dedicated to cooking, baking, creating and the vegan lifestyle! I'm a bit of a newbie in this cooking world, but I have had lots of practices and made many great meals, so I felt it was time to do some posting!
I will be sharing photos of scrumptious food along with inspiring descriptions, recipes, vegetarian/vegan restaurant reviews , natural product info., animal and environmental discussions and travels all sprinkled with updates on my metal career and music.
The next update shouldn't be too far now. I have been preparing for upcoming blogs, loaded with pictures of foods, teas, drinks & smoothies and soon to come- Halloween fun! See you on the flip-flop side!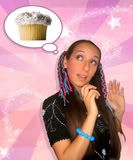 Photoshopped by Mikey D