Ah, Valentines Day. I can't tell you how many bitter people I come across who angrily curse this holiday up and down, declaring it a commercial holiday and nothing to be thought twice about. Then there are those who are
all
about the day, stocking up on chocolate hearts, writing and sending cards, planning fancy dates and wearing pink and red all day long. I don't know if I should be admitting to this... but I am part of the latter group.
For most of my life, I was 'flying solo'- a choice of my own (I had no time for such things as relationships!). Despite how many love birds I saw giving each other flowers and sweets and more than enough ooey-gooey affections, I just could not be bitter about the day. Granted, it's not an entirely important holiday, but it
is
an excuse for the creative mind to get to work!
I've always loved Valentines day, ever since I was a youngin'. Picking out, signing and bringing in cards for my classmates was the highlight of the month! Of course I never forgot to attach the little lollipops and Sweet Tarts. Once I returned home, my bag filled to the brim with Valentine wishes and candy galore, it was like Halloween all over again (but without the spooky stuff)!
As I grew older, it was fun to exchange candies and cards with my parents, who even went to the trouble of finding vegan candy upon my dietary and lifestyle changes. I'd always find a teddy bear and a rose waiting for me on my pillow after a long day of school and/or work. Of course, wanting a 'Valentine', my close friend, Janelle, and I would always claim each other (being a bit silly about it, of course) as an excuse to get each other yummy goodies and eat out at a fine restaurant on Newbury Street.
These days I have an
actual
Valentine. :) But that doesn't stop me from my old traditions- As a matter of fact, my other Valentine this year is my 3-year-old nephew, Kenny. He made me a little colorful paper heart (which I hung on my fridge).
Now, of course, comes the best part of this holiday- treats for everyone!
Last year I had made peanut butter balls to share with family and co-workers. The year before I made this awesome creation: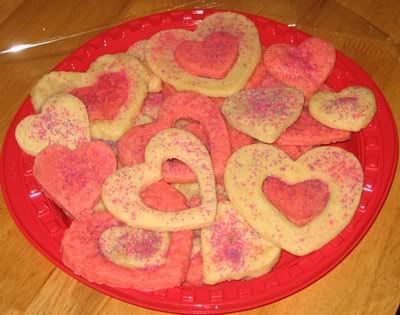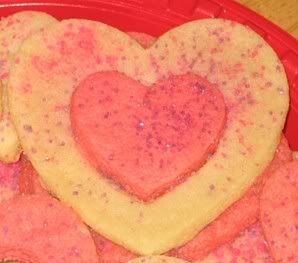 Now this year, I decided to challenge myself even further.
LoLo's Petit Fours
!
In my opinion, there are yummy, sweet, happy desserts that everyone can find in just about any cookbook (cookies, brownies, pies, cupcakes, etc...) Then there are
those
desserts. You know the ones I'm talking about- the kind they serve in high-end restaurants and bakeries, where the flavour is like something from a dream? Not only does it taste amazing, but it always looks like heaven in a mold of sugar- pretty colors from childhood dreams, fluffy white clouds, creamy bliss and perfection. So perfect, in fact, you'd find a similar-looking treat in glittery porcelain dessert decor! This is where white chocolate, ganache, mousse, marzipan, fondant and food coloring (natural, of course) come in.
For a more visual example, those exact treats I'm talking about can be found in just about every frame of Sophia Coppola's
Marie Antoinette
. I think all of her desserts were pink and white, actually!
These kinds of recipes are so hard to find, especially for a vegan.
However! I checked up on
Vegan Yum Yum
and found the cutest, sweetest, dreamiest dessert: Petit Fours!
Petit Fours are little, tiny cakes, covered in fondant and often decorated with buttercream, marzipan and chocolate. Just looking at them, one has to wonder, am I in dreamland?
The cake recipe is
incredible
! It's so simple- vanilla & lemon cake with a raspberry filling. But somehow, after layering and topping with marzipan, it becomes a magickal delight.
Of course LoLo did a wonderful job on the fondant presentation, but I didn't have as much luck. This was my first time making fondant, so I forgive myself for botching it up. I wanted a pink covering, but ended up somehow not having enough to cover all of the squares.
Oh, and it was the wrong consistency. So it looked like candle wax:
I guess I could always call them
Candle Fours
...
The taste of the cake inside is still devine, and so is the texture, so that is what's most important. All the taste-testers found it to be delicious and wonderous, so I know I passed on that.
As for the remaining baby cakes, what did I do? Well, I kept them naked! (Very appropriate for Valentine's Day, don't you think?) Thus, re-titling them as 'Naked Petits'.
I do plan on practicing with fondant in the near future so I can get my desserts to look as amazing and fancy as the bakery's. I found
this site
, which will aid me in that. My cousin is getting married in June and I already have some ideas... White chocolate, anyone? ;)
If anyone wants to purchase an extremely belated gift or if you simply wanna jot this down for next year,
Rose City
has an awesome traditional Valentine Chocolate Heart Box.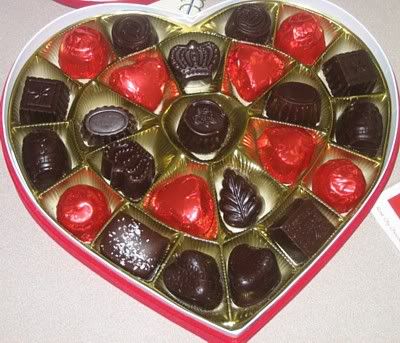 The chocolates are all-vegan, Belgian, some filled with creams, others solid, and they are INSANELY delicious. Heck, you should buy from them even if it isn't Valentine's Day!
Whether you are very much in love, dating, or as single as the day you were born, I hope you had a very, very wonderfully happy Valentines Day. Give a friend a hug. Write a card. Bake some goodies. Make a child smile. All in the name of the quality of life. :)